めいきょうしすい
meikyou shisui


Since Brett and Jeff are off in "India" (wherever that is...), I'm going to do my best to make sure that the Daily Yoji doesn't take a two week hiatus (although I can't promise that it'll be more than the weekly yoji).
Anyway, today's four-letter word comes from my favorite series for Nintendo DS, 押忍!闘え!応援団! (
Osu! Tatakae! Ouendan!
, which can be translated loosely as "Yeah! Fight! Ouendan!" - and, yes, I do think that Ouendan is best left in Japanese).
The literal meanings of the characters are "bright mirror stopped water." Basically, this phrase describes a state of mind wherein the person being described has no extraneous delusions gumming up their thought process.
Translations
1) clear-eyed
2) under no delusions
3) FIERCE AND READY FOR ACTION!
4) a state of "readiness for action" in certain parts of the female anatomy (thanks, google images)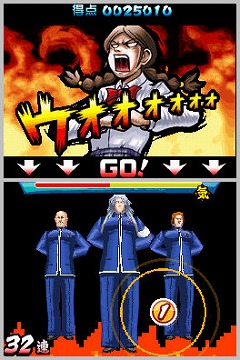 今まで上手なやつはいくらでもいたけどあいつはちがう。見ろよ、あの明鏡止水っていう目つき。道理で今年あそこの合唱部は無敵って言われてるわけだ。
There've been a ton of talented people before, but she's different. I mean, check out those eyes, its like she's got nothing else at all on her mind! It's no wonder their Glee Club is considered so invicible this year.